Scattered House is an architectural experiment founded on a truly contemporary notion of space, where issues of ubiquitous connectivity, family diasporas, design-by-occupant, and public control technology come together in an installation assembled from inexpensive electronic toys and gadgets.

Scattered House, Usman Haque & Adam Somlai Fischer from cesar harada on Vimeo.
We are inviting members of the public to visit the Hungarian Cultural Centre and contribute to elements of the "house" — they can either bring toys and gadgets that will become part of the amalgamated whole or we will also have a selection of items that they can try hacking themselves. Architects and interaction designers Adam Somlai-Fischer and Usman Haque, authors of the online manual "Low Tech Sensors and Actuators", will be on hand to advise and assist in this process, as well as Bengt Sjölén, artist from Stockholm.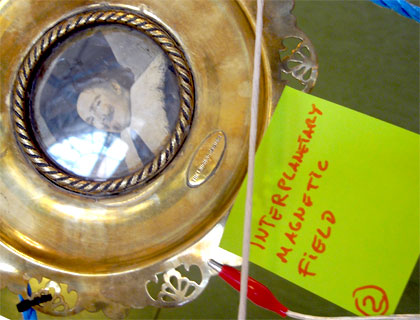 The three day event will be suitable for families and accompanied children, as well as design (or non-design) students who would like to be part of the event. The public will help design and build fragments of the interactive "Scattered House" which will be exhibited internationally later in the year. People will be able to open up toys and gadgets (that they have either brought along or which are provided for them), gain a simple understanding of how they work, and learn how to connect them directly into the installation themselves.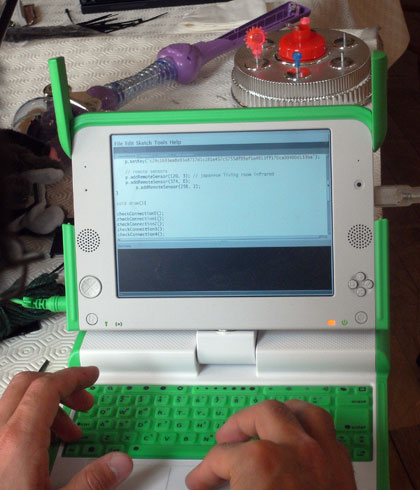 No experience is necessary, though enthusiasm for hacking open toys is welcome!
Concepts
Scattered House is an architectural experiment founded on a truly contemporary notion of space, where issues of ubiquitous connectivity, family diasporas, design-by-occupant, and public control technology come together in an installation assembled from electronic toys and gadgets. Scattered House is founded upon Reorient, Hungary's Pavilion at the 10th Venice Biennale of Architecture dubbed one of 2006's finest by Financial Times cultural critic Edwin Heathcote; and Reconfigurable House commissioned for the 10th anniversary exhibition at Tokyo's Interactive Communication Centre.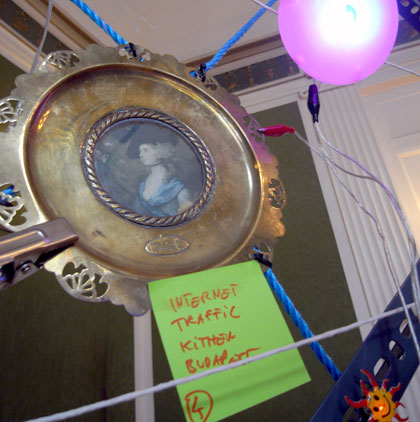 Reorient
Focusing on Budapest, its Chinese community and trade, and the south-east Asian production of cheap electronic toys and goods, the project envisaged possibilities where the chaos and multiplicity of thousands of cheap goods begin to define architectural spaces, homes and the built environment in general. Driven largely by economic factors, this tendency will result in a strong cocktail of cultural codes applied across various functionalities. Based on our research, the Reorient team – as designers – built a large installation, transforming the Hungarian Pavilion into a near-future scenario where spaces were 'active' and 'responsive', as many architectural research groups do. However, rather than creating luxurious or high-tech spaces, instead we attempted to embed in the site a mix of the cultural qualities of both the Pavilion and the toys themselves. In its behaviour, the installation was slowly responding to humidity and people's presence.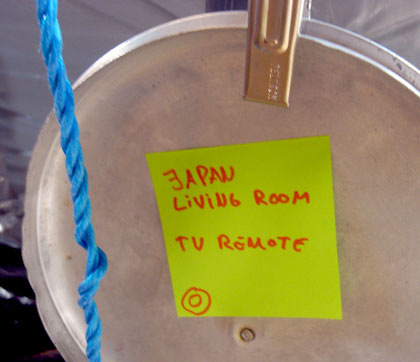 Reconfigurable House
As with Reorient, Reconfigurable House was also constructed to challenge the usual "high-tech" and "luxurious" aspect of architect-designed responsive spaces. The difference here was that we developed a way for its occupants to "rewire" the house themselves — i.e. they were able to re-program the way the House, composed of thousands of low-tech devices, responded to them.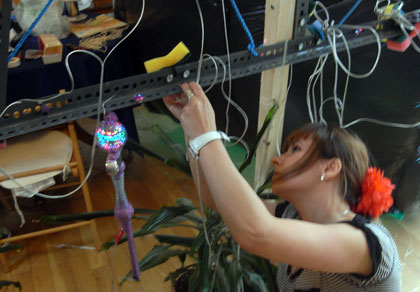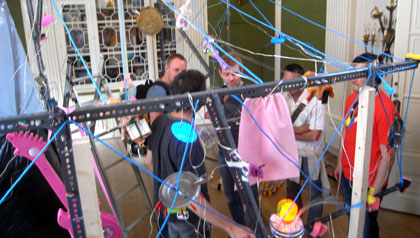 Scattered House
Building on tactics and techniques developed for the previous installations, Scattered House goes back to basics, locating its core qualities and focusing on important concepts that have become evident over the past couple of years.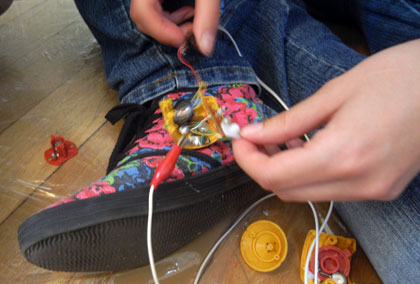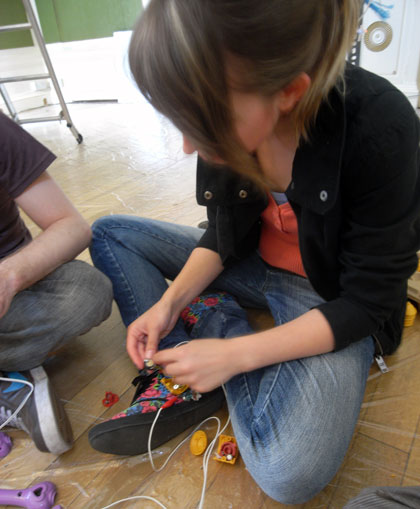 There are 4 main issues that the project deals with:
01 Closing the circle
Real time connectivity with remote locations adds a new layer to the visual / cultural codes of the toys, by brings in the simultaneous presence of other places. Scattered House shows how things can be assembled, it enables a mesh up of Hungary / China and then allows the connection for the two back to each other in a physical way, not just by visual codes.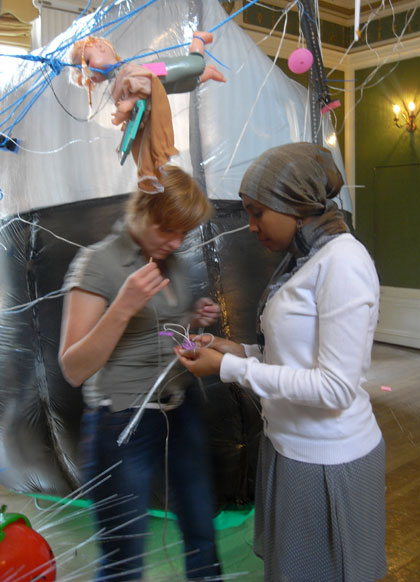 02 Home is not a place, it's a composite of fragments
Building up places from fragments, that are physically fractured as well geographically separated, could be something truly contemporary, in the most poetic sense. This is how many of us already live in the 21st century and contrasts directly with Reyner Banham's "well-tempered environment". For many of us, these days "home" is an idea constructed from several places, fluctuating over time, but nevertheless consisting of a strong cultural entity for the individual. By creating a space which is just like the way we live and feel about real spaces, Scattered House is an example for an architecture which could become sensitive to our altered notion of 'home'.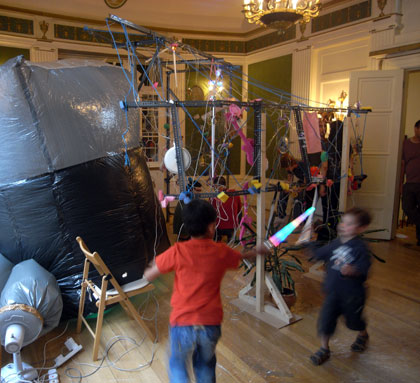 03 Personal, yet Context free
Furthermore, Scattered House emphasizes the idea that there is no distinction between "virtual" and "real" or "local" and "remote" — the distant half of the house, linked via the network is treated equivalently to the "local" half (in both directions) and suggests an understanding of architecture that is resolutely "human" (in the sense of being something that can be inhabited and designed and determined by its occupants) yet context-free (because it does not privilege geographical location).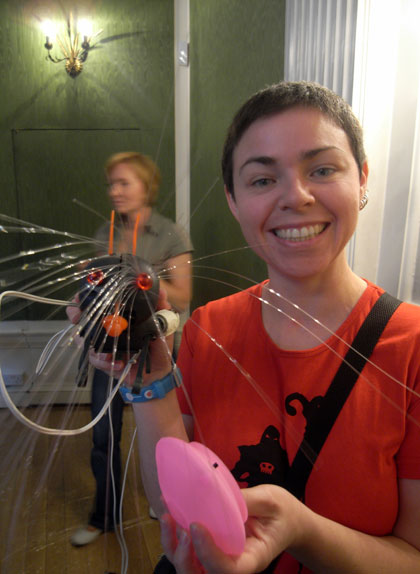 04 Peer production's tangible benefits
The openness of the system does not stop at the way Scattered House functions; it is open in its production process as well, following up on Reorient, where a large number of collaborators have designed and built the 20.000-piece installation. By allowing a diverse community to participate in the making of interactive architecture systems, the cultural qualities of such a system go beyond the usual 'high tech' and 'smart home' qualities, and create something genuine which at the same time does not belong to any single author's or artist's identity but to an undefined group of 'participants'.