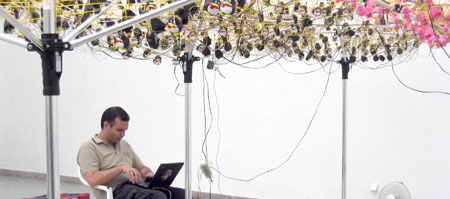 Adam Somlai-Fischer (1976 Budapest) is an artist, entrepreneur and architect. He is interested in the cultural qualities of new technologies, and to explore these he created artistic installations, software products and institutions. A supporter of peer production, Adam collaborates with designers, artists and engineers, where motivations are shared to create projects from conglomerates of thinking cultures.
Examples include: Prezi – a zooming presentation editor, Reconfigurable House and Reorient – spaces made of thousands of electronic toys, Aleph, an outdoor display built from kinetic mirrors, Wifi Camera – a DIY camera taking picture of the Wifi landscape, Ping Genius Loci – a field of outdoor analogue pixels, Brainmirror – a mixed reality experience presenting MRI through a mirror, Low Tech Sensors and Actuators workshop and handbook, and Induction house – a set of experiments for spatial projections.
These projects were shown at the Venice Biennale of Architecture2004, 2006, 2008(international show) China International New Media Arts Exhibition 2008, NTT ICC Tokyo, ISEA 2004 Helsinki and 2006 San Jose, Ars Electronica 2006, Kiasma Museum Helsinki, Ludwig Museum Budapest.
Adam is the cofounder of Prezi.com, director of aether architecture, and senior adviser of Kitchen Budapest medialab.
Prizes
2009 Winner of the World Technology Award (WTN, Time inc) in the category of Arts, shared price with Usman Haque
2009 I.D 50 – Selected as one of top 50 emerging designer worldwide by International Design magazine
2009 'Youth of March' state award for excellence from the prime minister of Hungary
2008 New Trends in Architecture 2009-2010 – selected as one of 15 top emerging architect within Asia-Europe
Exhibitions
cv formatted list of exhibitions, always in collaboration with others
2010
Wifi Camera Obscura, Transmediale 2010 Futurity Now, Berlin, Germany
2009
Wifi Camera Obscura, Rijeka, Croatia
Wifi Camera Obscura, Latsipalasi+ Pixelache, Helsinki, Finland
2008
Wifi Camera Obscura, NTT/ICC, Tokyo, Japan
Wifi Camera, Image Radio, Eindhoven, Netherlands
Wifi Camera, Picnic, Amsterdam, Netherlands
Wifi Camera Lenticular Radiography, Spectropia, Riga, Latvia
Wifi Camera, National Museum of Art, Beijing, China
Wifi Camera, HMKV, Dortmund, Germany
Retrospective, New Trends in Architecture 2009, Tokyo, Japan
Scattered House, Hungarian Cultural Center – London Festival of Architecture, London, UK
Distributed Projection Structure, Technorama, Wintertur, Switzerland
Reconfigurable House 2, B33, Hasselt, Belgium
Alpeh, Venice Biennale of Architecture, International Selection, Venice, Italy
Brainmirror, Venice Biennale of Architecture, Russian Pavillion, Venice, Italy
Brainmirror, European Science Open Forum, Barcelona, Spain
2007
Reorient – The Grand Baldachin, Instituthongrois, Paris, France
Wifi Camera, Forum of Cultures, Monterrey, Mexico
Aleph, Picture House – Belsay Hall, Belsay, UK
Reconfigurable House, NTT/ICC, Tokyo, Japan
Brainmirror, Forum of Cultures, Monterrey, Mexico
Brainmirror, Technichus, Härnösand, Sweden
Brainmirror, Naturhistoriska Riksmuseet, Stockholm, Sweden
2006
Wifi Camera, Perimeters, Boundaries and Borders, Lancaster, UK
Wifi Camera, Waves, Riga, Latvia
Reorient Migrating Architecture, Venice Biennale of Architecture, Hungarian Pavilion, Venice, Italy
Ping Genius Loci, San Jose Museum of Contemporary Art, ISEA2006, San Jose, USA
Ping Genius Loci, Main-d'Oeuvre, Mal au Pixel, Paris, France
Distributed Projection Structure, Hangar Biacocca, Mixedmedia festival, Milan, Italy
Budapest Heat, Hotel de Ville, Paris, France
Low Tech Sensors and Actuators, FACT, Liverpool, UK
Brainmirror, Swedish Research Council, Stockholm, Sweden
Brainmirror, Ludwig Museum, Budapest, Hungary
Brainmirror, Upplandsmuseet, Uppsala, Sweden
Brainmirror, Bildmuseet, Umeå, Sweden
Brainmirror, Arbetets Museum, Norrköping, Sweden
Brainmirror, Lindingö Stadshus, Lidingö, Sweden
Brainmirror, Folkets hus, Stockholm, Sweden
Brainmirror, Stockholm Academic Forum, Kulturhuset, Stockholm, Sweden
2005
Ping Genius Loci, Millenaris Park, Budapest, Hungary
Low Tech Sensors and Actuators, Maker's fair, Amsterdam, Netherlands
Budapest Heat, Le Centre Culturel de rencontre Abbaye de Neumünster, Luxembourg
Brainmirror, Matchmaking festival, Senter før Samtidskunst, Trondheim, Norway
Brainmirror, Researcher's Night, LAVA, Kulturhuset, Stockholm, Sweden
Brainmirror, Malmö Museum, Malmö, Sweden
Brainmirror, Design year, Culture centre, Stockholm, Sweden
Brainmirror, Competence Development Fund, City Hall, Stockholm, Sweden
Brainmirror, Universeum, Göteborg, Sweden
Brainmirror, Regionmuseet Kristianstad, Kristianstad, Sweden
Brainmirror, Kalmar Slott, Kalmar, Sweden
2004
Induction House, Venice Biennale of Architecture, Hungarian Pavilion, Venice, Italy
Induction House, Galleri U, ISEA2004, Helsinki
Distributed Projection Structure, Kiasma, Pixelache Festival, Helsinki, Finland
2003
Induction House, Mucsarnok, Budapest, Hungary
Remote Home Prototype Cornish College of the Arts, Seattle, USA
Interspace, Kulturhuset, Stockholm, Sweden
5 Tones, Learning Lab, KTH, Stockholm, Sweden