Spatial loom




This simulation shows the possibility of projecting on a spatial structure that is constructed
from parallel sticks placed on three layers, that are never overlapping. This means that if we project
from the top, they never cast shadows on each other. The above illustration shows a 3d model
of such a structure on the left, and the film that is projected on the same structure on the right.
Such construction allows for a source projecting from above access to all three levels separately.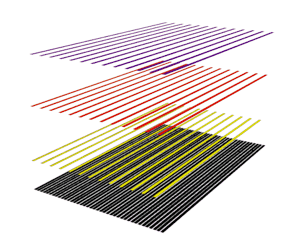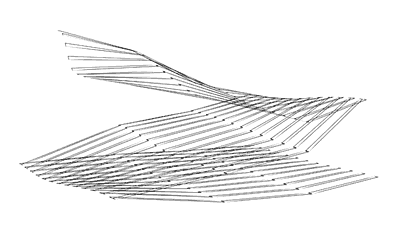 We can see here how each stick casts shadow on the ground but not on each other. To simplify the testing
process, we used parallel light projection (as if it would be sunlight) and rectangular coordinates for the model.
The illustration on the right show how it would be after readjusted to a computer projection, changing the vertical
parallel lines into centrally focused lines.

Here are the views of the parallel model. Note, how the side views shows the three non-overlapping layers.
| | |
| --- | --- |
| Top view | |
| Front view | Side view |
And the views of the final, centralized model:
| | |
| --- | --- |
| Top view | Perspective view |
| Front View | Side view |