Installation
The project, as an installation, got commissioned for the Belsay hall contemporary arts program in the UK, to be shown between March 2007 to September 2007. This event supported by English Heritage and DOTT uk, curated by Judith King, and Juha Huuskonen.

We joined up with artists Tamás Szakál, Péter Szakál, Andrea Bernscherer (nextlab.hu) to make the installation happen.

Update(2007 May 4):
Opening day at Belsay

(download higher quality version: 11Mb, or 110Mb HD)


Images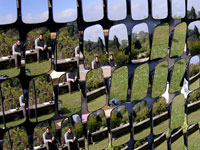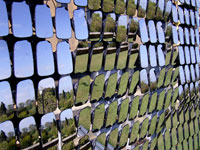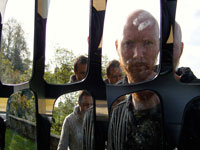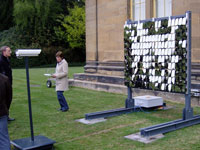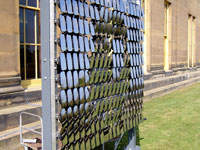 Construction

After visiting the site, we decided to install it in the garden, outdoors. To reach the required level of stability within the budget we are using power side mirrors from cars.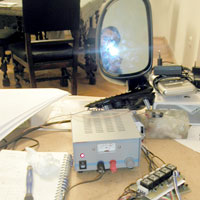 The installation is experienced as a large matrix of reflections of the actual environment on mirrors that can be electronically tilted,‭ ‬so reflections are changing and eventually building up images and other visual information.‭ ‬This is perceived fully from one specific viewpoint at a time,‭ ‬while getting fragmented by moving away from it.‭ ‬The installation produces its content in response to the presence,‭ ‬position and behavior of visitors

CAD pdf link, a detailed drawing if the installation

Video simulation with car mirrors (2 mb xvid)


The mirrors,‭ '‬pixels‭' ‬of the installation are made from power side mirrors of cars‭ (‬most likely Citroen zx‭ ‬mirrors‭) ‬that have a sufficient angle to reach our goal and are built very robust and weather proof.‭ ‬Movement is achieved by‭ ‬2‭ ‬small electric motors within the casing,‭ ‬which we control with our own technology.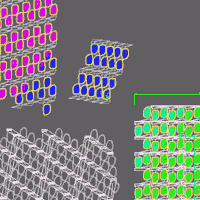 ‭ Each mirror is equipped with a small circuit board with a microcontroller,‭ ‬a motor driver and an angle sensor.‭

The cameras are used for analyzing the environment seen through the mirrors and the programs running on the server will use this information to position the mirrors and thereby controlling what the visitors will see.‭ ‬There will be cameras placed in front of the mirrors to report visible reflections as well as within the mirrors,‭ ‬inside the structure to map the environment and sense the visitors.

layout pattern options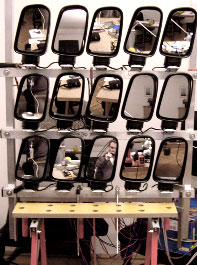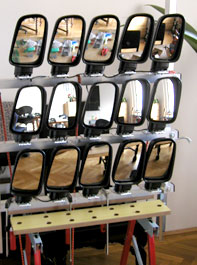 Segment movement testing with 15 Mirrors

Construction in Budapest


Building images from Budapest, from nextlab.hu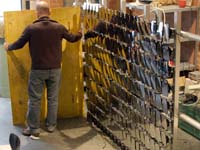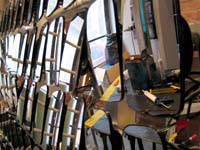 download--[ 800px, huge ]----------------[ 800px, huge ]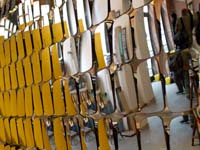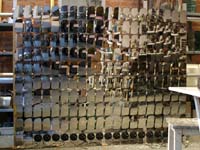 download--[ 800px, huge ]----------------[ 800px, huge ]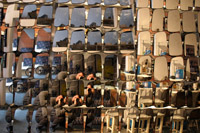 download--[ 800px, huge ]


About Belsay Hall
Our site is a very unique place, with a magical quarry garden with huge plants.
Click images for larger version: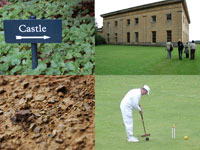 Aleph is constructing stories from fragments it finds around itself. By reflecting what is there now, it shuffles the present, and shows images that are not really there. This can be experienced as shift in space just as well a shift in time. The name we chose, Aleph, from Borges talks about a point in space, that contains all other points, where time falls into a singularity.

This experience is like where the actual environment starts to carry something fictional. It is where the stains on the walls can become a medium, they mediate the space, and this is exactly how we felt about Belsay Hall.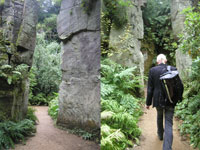 For us, Belsay Hall has a very unique duality. Every little corner feels loaded with hidden stories, with the histories of the place, but at the same time, as the buildings are emptied out, the place acts as a framework, that is waiting for new interpretations to happen, new uses to emerge.

Perhaps Aleph is revealing something from this. Perhaps this will only be our personal relation to this connection, and not really visible for other. Either way, the very strong atmosphere of Belsay has influenced our work, as we have been working with these images in our minds for many months.



Related projects and concepts
There have been quite a few people and projects creating alternative displays, from room lights, to water drops, even we have been experimenting with rotating pixels before.

Also using reflections from tilting mirrors to create images is a technology used in most projectors, called DLP, that is very similar, of course on a much smaller scale.

Building displays from kinetically moving objects was researched by Daniel Rozin a decade ago, who created many beautiful projects, we especially like the trash mirror.

Also, we need to mention photo mosaic, the process of creating large images from many smaller ones in software.

Given all the above, once we had the idea in 2005 to use the colors reflected on moving mirrors from the environment to shuffle new information into the same data, we thought that we really would like build it. Not for technological innovation, nor for artistic novelty, but simply out of curiosity, and believing that whatever we build, we will anyhow take things forward.